Odd Spot Plants is a small boutique nursery in South East Queensland owned and operated by Neil and Lisa Paterson.

We specialise in "indoor foliage plants" and all the rare, hard to find and variegated plants. The plants you just can't find at your local nursery.

Neil's obsession with all things green ensures he keeps finding all sorts of 'plant treasures' – the only thing you won't find us growing is anything with prickles – I've drawn a firm line. "Neil, you can grow anything as long as there is NO prickles".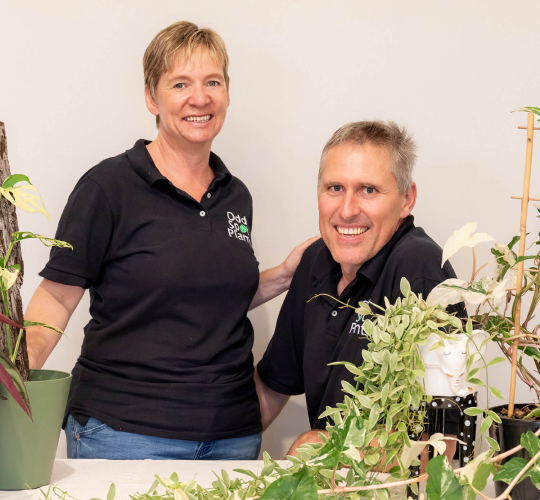 We PROPAGATE and GROW all our Own plants.
No middleman involved; you can rest assured you are buying direct from the grower who loves our plants as much as you do. AND NO Tissue Culture (TC) plants.

Being a small nursery means we can propagate some different plants that the larger nurseries don't have time for. We can do some of the "trickier" to propagate plants and source some of the harder to find ones.

We have strict plant quarantine protocols and so don't allow visitors to the nursery. If you want to buy from us – then online is the way to go. We have been posting plants for many years and know how to pack them, to ensure they get to you in the best condition possible.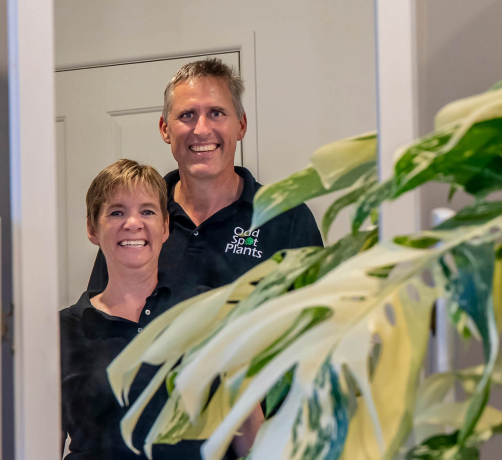 We are a plant crazy couple and both love the rare, unusual and quirky of the botanical world.

Neil, I always joke, was born with plant DNA – he's the natural green thumb.

Neil grew up in a plant loving family, his Dad grew and judged Orchids and his Mum breeds Bromeliads. So even as a young kid, Neil and his brother grew plants. They even grew gloxinias in their teens to pay for a greenhouse.

Deciding to make a career out of his passion, Neil studied a 4-year Degree in Horticulture at the University of Queensland and has been hands-on involved in horticulture ever since. A total plantsman, he loves all types of plants. And enjoys the breeding and more intricate components of the industry. It's not unusual to find him still in the greenhouse at 11pm propagating.

I, on the other hand grew up on a farm, in a family of animal lovers. So, I decided to study Agriculture of the animal kind. I did have a few subjects about plants. And so, that is how Neil and I met, fell in love, got married and started having plant babies.

And thus, started my long education into the world of 'green'.

Accounting, Marketing, Business, Art – after a diverse and long career I now find myself elbow deep in foliage and LOVING IT! Learning every day and no longer can I call myself a brown (black) thumb – I am indeed now a Green Thumb and living proof anyone can learn.

Thank you for stopping by and sharing in this plant journey with us. Our one desire is to provide you with the plant of your dreams, so be sure to let us know what your unicorn plant is.

Happy Growing
Lisa Paterson
Nurtured and Loved Plants
We are a tiny boutique Nursery which means we know every plant, have touched, nurtured and loved every single one. What this means for you is the plant you receive is ready for your home. Bottom line is, we want you to love it as much as we do and want it to thrive for you.