Rhaphidophora hayi vs Rhaphidophora korthalsii what are the differences? Are they different?

Two stunning shingle plants that would look fantastic in your plant collection. And when you have these plants together it is hard to see where any confusion could be made – they really are quite different.
So why the discussion around Rhaphidophora hayi vs Rhaphidophora korthalsii.
Well… there are so many mis-labeled Rhaphidophora hayi and Rhaphidophora korthalsii – that I'm guessing someone has looked at a photo and guessed but guessed wrongly AND then in good old internet fashion everyone has copied.
This article is not a scientific description, if you want a proper botanical description please take a look at these links to Kew – Botanical description of Rhaphidophora korthalsii Schott AND Botanical description of Rhaphidophora hayi P.C.Boyce & Bogner.

But I am writing this as a general description for home gardners and newbies. So…
Rhaphidophora hayi is native to North Queensland and New Guinea.
Rhaphidophora korthalsii is native to Peninsular Malaysia, Singapore, from Sumatera and southern Thailand to Borneo and the Philippines eastwards through the tropical western Pacific.
One of the biggest differences is that Rhaphidophora hayi stays as a shingle plant whilst Rhaphidophora korthalsii will produce large fenestrated leaves at maturity. I can't wait for ours to fenestrate – it's fun and a great talking point to have two leaf forms on the one plant.
The best way to see the differences is to get one of each and observe it your self. Second best way is to take a look at my photos and see the differences.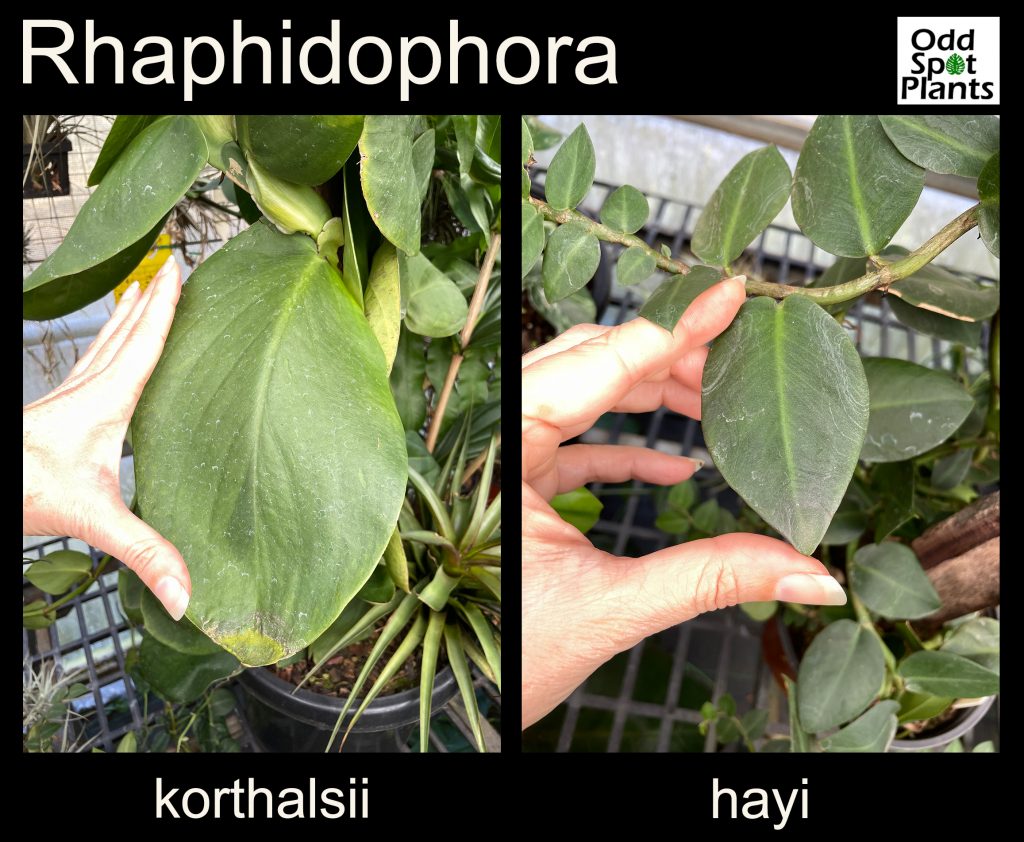 Leaf colour is problematic because it is quite dependent on the amount of fertiliser each has and 'the eye of the beholder'.
Leaf shape is generally described as oval for R. hayi and oval or heart-shape for R. korthalsii – again, not the best descriptions. I have seen quite a range of leaf shapes for R. korthalsii whereas the Rhaphidophora hayi leaves tend to always be oval coming to a point.
Rhaphidophora hayi generally is going to have smaller leaves than the Rhaphidophora korthalsii – take a look at my photos. The R. korthalsii leaves tend to overlap more and form what look like roof shingles. Even when it grows off the top of the totem the leaves are very close together. The R. hayi tends to have more distance (longer internodes) between leaves.
Both are gorgeous plants and if you love your shingle plants – then you will probably want both in your collection 😉

Happy Growing
Lisa Paterson