Why is this Sansevieria masoniana in a rosette? Whale fins should be huge, long spears, what is this rosette? What is a Sansevieria juvenile form?

Firstly, let me just say that the genus Sansevieria appears to have now been put into the genus Dracaena HOWEVER, even the experts are still arguing about it. So I'm just going to keep calling them Sansevieria here.
Ok, so what is this mention of Juvenile form and rosettes of Whale Fins. A Sansevieria Whale Fin can grow to 1.2m long and 30cm wide – it should be huge! So, what are these little rosettes all about?
To be fair, there just not seem to be a lot of information about it. In fact, the whole genus of Sansevieria, botanically speaking, is quite neglected. With many unnamed or mis-named species, confusion between cultivars and species – in general it's quite messy. And so, discussions about juvenile and mature forms are quite few and far between.
Even the Sansevieria International Organization makes only a passing reference to it. "One of the difficulties in identification is that many Sansevierias have a juvenile and mature form which can appear to be different plants." (https://sansevieria-international.org/species-and-cultivars/) And often in the wild you will only find the mature form growing and the juvenile form (Mother) has long since died.
And the University of Florida – Mid-Florida Research and Education Centre when discussing S. trifasciata, also makes mention "… first few leaves to develop on sansevieria propagated from cuttings are juvenile and lack the typical foliage shape characteristic of mature plants. Juvenile leaves on many sansevierias are shorter and more reflexed than mature leaves… (https://mrec.ifas.ufl.edu/foliage/folnotes/sansevie.htm)
Seed grown Sansevieria will naturally develop as juvenile rosettes and then eventually grow into the mature form. Often Sansevieria grown from leaf cuttings will also start as a rosette (or non-typical foliage) before developing into the mature form.

Whereas plants grown from rhizome division (offsets or pups) usually produce plants with a mature form.

Now, I say usually because this is where our "rosette" forms have come from – from rhizomes. BUT we think that because some of the plants we acquired had been grown so harshly and were so poor in condition, that when we started to grow them again that they reverted to juvenile.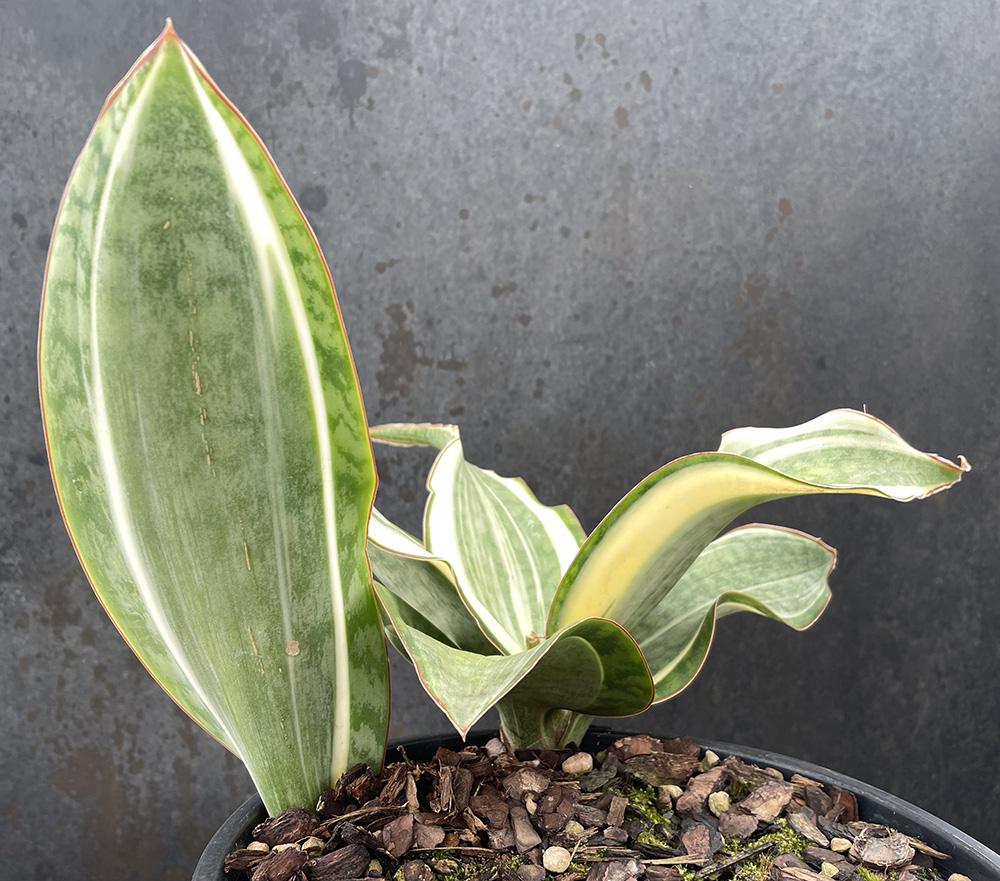 From what we have experienced so far is that these juvenile rosette plants (which look amazing) stay like that BUT produce rhizomes and offsets (pups) of the mature form of whale fin. I have read that occasionally a plant can get stuck in the "juvenile" form and never produce the mature form but we are yet to experience that ourselves. (Neil doubts one will but I'm secretly hoping one does 😉)

Happy Growing
Lisa Paterson